Pinball Hall of Fame in the News.
---
---
11/02/09
The NEW Pinball Hall of Fame opens at a larger 10,000 square foot location at 1610 E. Tropicana Ave, Las Vegas 89119. Half as close to 'the Strip' (just 1.5 miles compared to 3 miles at the old 3330 E. Tropicana location), the new facility is owned by the Las Vegas Pinball Collectors Club. A standalone and dedicated facility just for pinball!
---
07/01/08
LA Times article on the Pinball Hall of Fame here.
---
01/08/08
John C. Dvorak's Cranky Geeks dot Com takes a time-out from the 2008 CES show in Las Vegas to visit the Pinball Hall of Fame. Episode #98 (01.08.2008), video of the PHoF starts at about 3:05 into the 25 minute video podcast. CrankyGeeks.com Archives.
---
01/01/08
Spirit Magazine (Southwest Airlines) article about the Las Vegas Pinball Hall of Fame. Sure Played a Mean Pinball
---
10/01/07
Poker Pages about PHof. Poker Pages article
---
8/01/07
City Life 'Pick of the Week' about PHoF and Retrotopia. City Life (part1), City Life (part2).
---
8/01/07
Get Geeky about PHoF and Retrotopia in the Las Vegas Weekly magazine.
---
2/15/07
Tim Arnold interview about PHoF and how Tim got started doing pinball.
---
2/1/07
Hobo Trashcan article about Vegas, and a good part of it about the PHoF.
---
1/14/2007
History of the Button visits the Pinball Hall of Fame. An excellent video interview of Tim Arnold and the history of pinball.
---
12/21/2006
Las Vegas CityLife article on the PHoF. Scanned and presented here (no CityLife web version).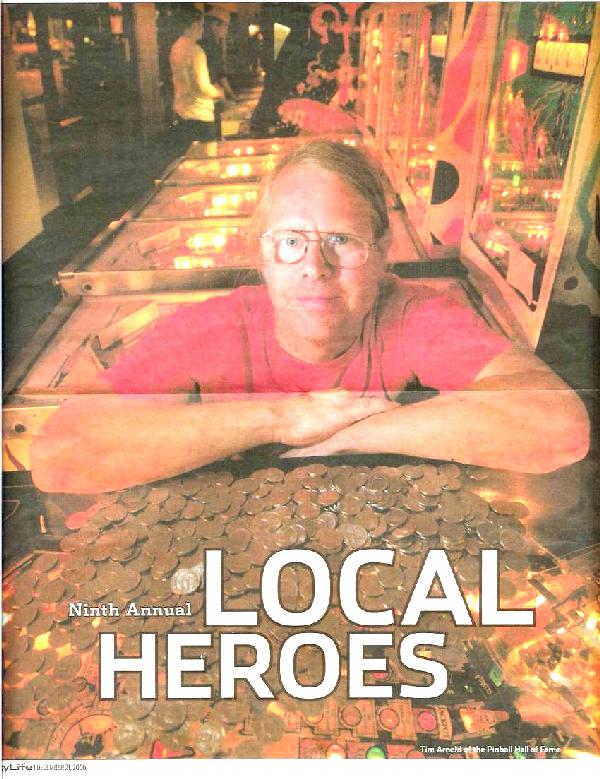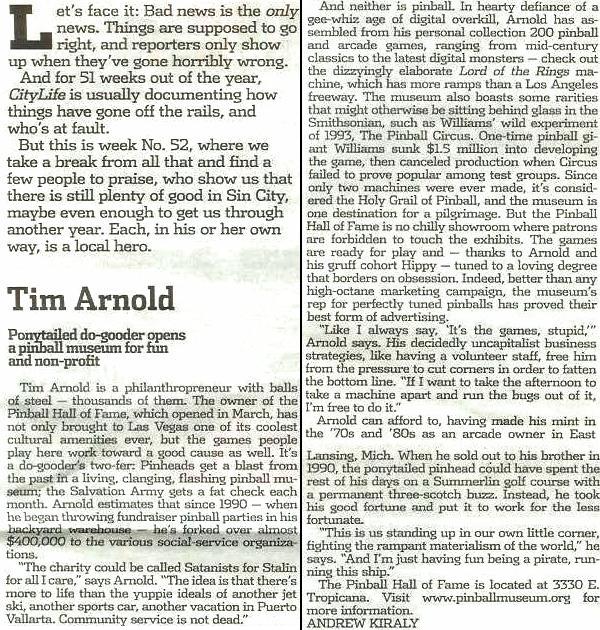 ---
Friday January 13th, 2006.
Original Pinball Hall of Fame officially opens at 3330 E. Tropicana Avenue.
---